I've seen a lot of animated gifs that make me all happy and fuzzy inside, but this one is my new favorite.
Basically, you ask a question, and the Avery Johnson Decider lets you know if you made a good point.
For instance:
"Avery, what do you think of the idea of four supermodels, in a jacuzzi, all with bottles of champagne and strawberries?"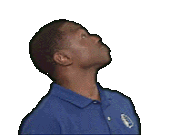 He likes it! Avery likes it!