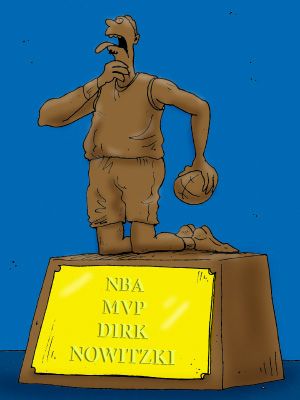 The good news is that Dirk Nowitzki's horrific-looking injury is not serious and he'll only miss two weeks.
The bad news is that Dirk Nowitzki's horrific-looking injury will cause him to miss perhaps the most important two weeks of the season in a lot of people's eyes. This firmly establishes him as the second Dirk in recent memory to have a tragic fall from grace (the other being named "Diggler").
Doctors today gave the ol' Hasselhoff fan an MRI and determined that
he only had a mild high-left ankle sprain and a mild left knee sprain
. While this meant he would definitely be able to be available for the playoffs, suddenly the Mavs look like garbage and are in serious danger of not making the playoffs. Since the Jason Kidd trade, the Mavs have had trouble winning and "Mr. Triple Double" Kidd hasn't gotten one single triple double in a Mavericks uniform since he arrived. To make matters worse, the team and are only two games above the Nuggets, who currently own the 9th seed in the West (oops...
make that margin 1.5 games
). In Starbucks terms, that makes them "grande screw-achino-ed".
I feel bad for Dirk, who was out to really show he deserved the MVP he got last year with a solid stretch before the playoffs. I also feel bad for Mark Cuban and the Mavericks fans who had such high hopes after the Kidd trade. I even feel bad for myself,
who twice predicted the Mavs would win the championship this year
. -Still, there is no one I feel worse for than the poor fantasy basketball owner who just likely lost his top draft pick at the start of the fantasy basketball playoffs. You, sir or madam, are truly screwed. Have fun with that replacement Josh Boone pickup.
The weirdest part of this whole thing? There is a very solid chance that the Mavs, a team that is currently 18 games over .500, could be sitting on their couches watching the Hawks in this year's playoffs. The Hawks are currently a blazing 9 games under .500 and 14.5 games back in their own division. Even weirder, the could Nets somehow sneak into the playoffs if the Hawks falter. The NETS!
Somewhere Joumana Kidd is cackling to the heavens as she stirs her cauldron of Jason-Kidd-mojo-killing potions.